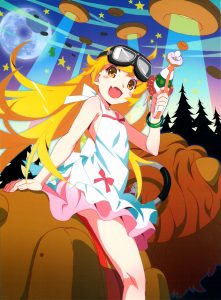 Episodes – 13
Video – 1920×1080, 1280×720, crf 15
Audio – 2.0 FLAC (24-bit)
Subs – Commie (Re-styled, Heavily modified)
Typesetting – Commie (Modifed by CoalTsubasa)
1080p – Torrent
720p – Torrent
Notes:
Big thanks to the hundreds of hours put in by Dabor and Mashiro (QC), Pikminiman (TS), and alucryd (TL for the new OP3).
As per usual, commentary .bats are available, and playalls are available by arc. These will play the arc with only 1 OP and ED.
The font style did receive some tweaks for readability. This will be updated in every other series for the Grand Monogatari Project.