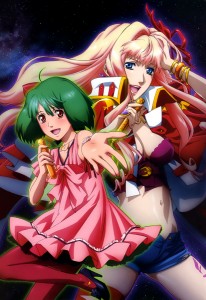 Type:
Movie, 2 Parts:

The False Songstress
The Wings of Goodbye

Video:
1920×1080 @ crf 15
1280×720   @ crf 16
Audio:
FLAC 5.1
Subs:
Movie 1: /m/ Seto Otaku Edit (Dialog), Doki (Songs)
Movie 2: Commie
1080p:
Torrent
720p:
Torrent
Notes:
The scripts of both movies were heavily fixed/modified. The SO-script got a bunch a scene-bleeds and some small typos fixed. Commie's got also various fixes as well as fully \k-timed romaji karaoke and honorifics. Both movies have chapters named after the songs performed in them and are styled matching to our series release (which you might want to watch beforehand).
Big thanks to MarukoM, who had no idea what he got himself into when I asked for "some help with karaoke-timing a Macross Movie" and still pulled it through.